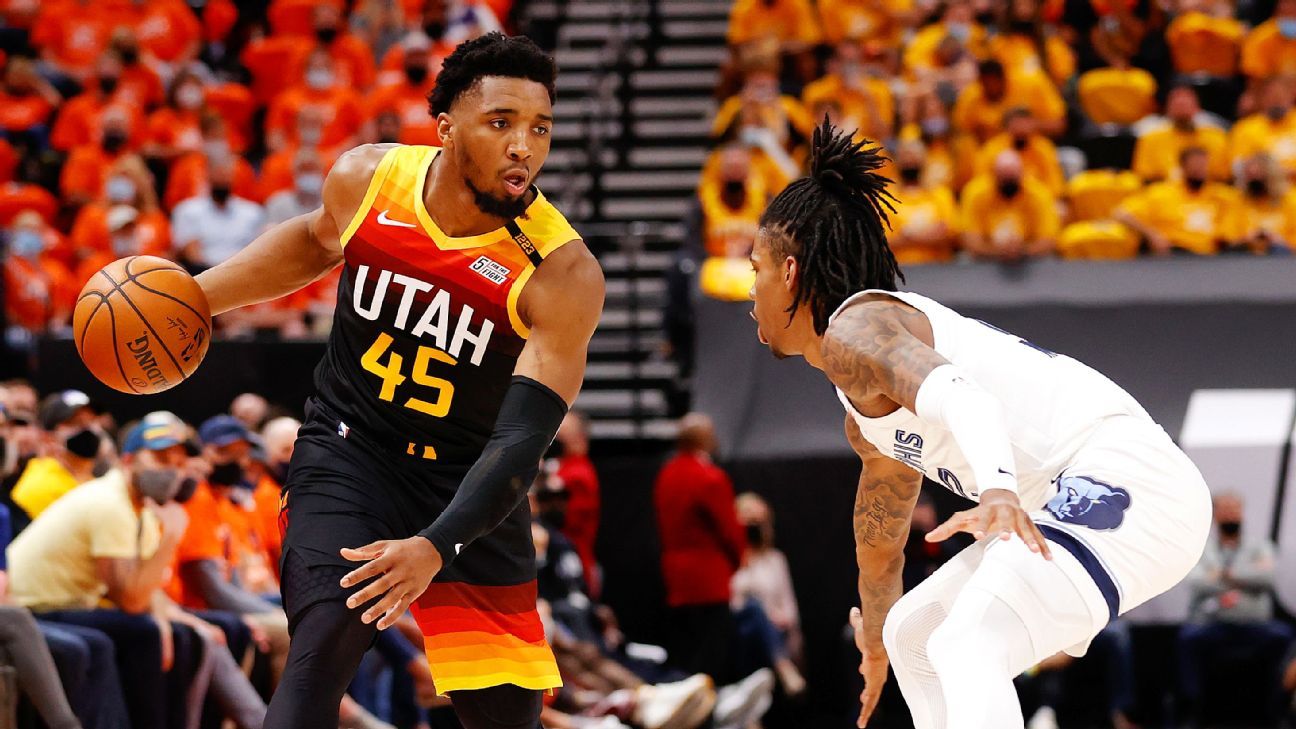 At least one fan joined the Utah Jazz bandwagon after their five-game series win in the first round: Tee Morant, the father of Memphis Grizzlies star Ja Morant.
Moments after top-seeded Utah ended the series with a 126-110 win Wednesday night, Tee Morant told Donovan Mitchell that he'd be rooting for the Jazz the rest of the playoffs. He said it was because of the way the organization responded to three fans directing racist and vulgar taunts toward Morant's parents earlier in the series.
"Hey yo, I'm going for y'all right now," Tee Morant told Mitchell in a brief courtside conversation on the Vivint Arena court. "Why? Y'all didn't have to do that. Y'all didn't have to show love to us like that.
"This is what I'm saying: When s— goes bad and then you reach out, that's how you bridge the gap. Most people don't realize that. That's why I appreciate you, and that's why I hope the Jazz win the championship."
publicly apologized to the Morant family in the aftermath of the Game 2 incidents. The Jazz announced the next day that the three fans, who were ejected from the game, were indefinitely banned from Vivint Arena.
"The Utah Jazz have zero tolerance for offensive or disruptive behavior," the team's statement read — in part, a message reiterated in a tweet from Smith.
It was one of several incidents of inappropriate fan behavior so far during the NBA playoffs. Others have included a fan dumping popcorn on Washington Wizards star Russell Westbrook in Philadelphia, a fan spitting on Atlanta Hawks star Trae Young in New York and a fan throwing a water bottle at Brooklyn Nets star Kyrie Irving in Boston.
Smith provided Tee Morant's party of five with complimentary courtside tickets, lodging and car service when the series returned to Salt Lake City for Game 5. Jamie Morant, Tee's wife and Ja's mother, decided not to return to Utah due to anxiety stemming from the Game 2 incidents, watching the series finale from the family's home near Memphis.
Tee Morant expressed his appreciation before Game 5, calling it a "nice gesture from the Jazz," and reiterating that he enjoyed his interactions with the vast majority of Utah fans he encountered.
"With the way we handled it as an organization, that in itself shows that we can do this," Mitchell said. "We're not going to let people's ignorant comments, people throwing popcorn, people spitting [tarnish the NBA]. The NBA as a whole, each individual team and as a league, are finding ways to show that we stand for what is right and not letting these fans who get out of control deter us from this sport that we love and everything that we enjoy.
"There's ways to go about it to show we don't stand for this. That's what that message was. We're not going to let a few idiot fans, in each arena, change that or change what our mindset is. We stand by that. The biggest thing is, as a whole, we're starting to see the league and the teams and guys are rallying behind each other, having each other's backs, having the families' backs, understanding that this is a brotherhood. This is a family."
Mitchell described it as inspirational to see the interaction between Ja and Tee Morant before and during Game 5. He praised Tee Morant, who is known for loudly and proudly supporting his son, for putting so much effort into raising Ja and preparing him for an NBA career.
"To see the smile on Ja's face to see his dad right there, that's a holistic moment for a kid," Mitchell said. "I feel like that's something that was truly special. It's just a holistic and real moment to see an African American father, who has worked so hard to bring his African American son through life and also get him into the game where he was underrated and overlooked. And now to come out there and be able to watch him hoop and perform is pretty special."