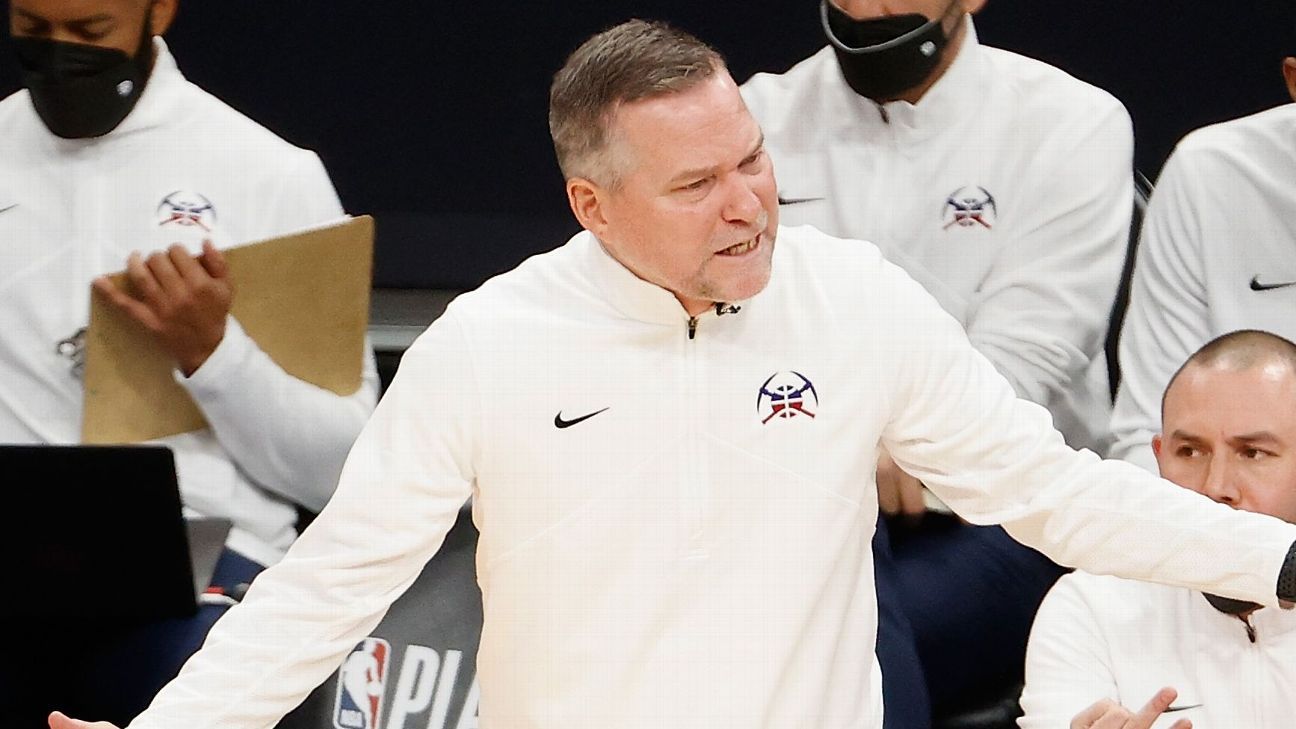 Denver Nuggets coach Michael Malone believed his team "quit" in Wednesday night's 123-98 loss to the host Phoenix Suns in Game 2 of the Western Conference semifinals.
The defeat put Denver in a 2-0 hole in the best-of-seven series.
"I felt we quit tonight, which is something you never want to see," Malone said. "So I guess for Game 3, I'm just going to try to find guys that will at least go out there and leave it all on the line. I may have a hard time coming up with five guys that fill that, but these two games, these second halves have really been disappointing, and that's an understatement."
For the second straight game, the Suns dominated the Nuggets in the second half, outscoring Denver 72-56 and running away down the stretch. It was a performance that left Malone and his team searching for answers as they head back to Denver for Game 3 on Friday night.
Nikola Jokic also expressed disappointment in his team's performance, but he pushed back on the notion that some players quit on Wednesday night.
"I don't think so that guys quit," Jokic said. "When you're losing a lot, you can always kind of put your head down. … But I'm not sure that we quit. I didn't quit."
Nuggets guard Will Barton, who returned to the lineup for the first time since suffering a hamstring injury on April 23, said that some players spoke up after Wednesday night's setback, but he declined to go into specifics about what was said.
"I won't get into it, but some things were definitely said, some things that needed to be said, but all that is irrelevant," Barton said. "We got to go on the court, Game 3, and play like we know how we need to play and win."
Malone pointed out Barton's performance — 10 points in 16 minutes — as another reason for his dissatisfaction.
"That was probably the only silver lining to a really rough night all the way around, was Will Barton, who hasn't played in over seven weeks, in his first game goes out there, gives you 10 and three … and he hated me when I took him out because he had reached his minute restriction, I understand that," Malone said. "I just told our players it's embarrassing that a guy that hasn't been able to play for seven weeks was out there leaving it all on the line, and I don't think anybody else did."
Aside from the dismay for the way his players performed, Malone also took part of the blame. He said the entire team will have to quickly change its mentality to get back into the series.
"This was an embarrassing performance from myself all the way through the last player," Malone said. "We're walking out of here with our heads held down, rightfully so. And there's a reason that their crowd is yelling 'Suns in 4!' and they're calling for a sweep. Because if we play like this back in Denver, this is going to be a really quick series."
Malone also noted that his team can't lull itself into believing that things will turn around Friday night just because the Nuggets are playing at home. He was particularly disgusted with the way he felt his team lollygaged at times when the Suns started to pull away.
"Literally, I saw guys say, 'Hey, I'm not making shots tonight. I'm just going to walk around and mope. And my body language is going to be poor,'" Malone said. "And I felt that was the five guys on the court, that was the 12 guys on the sideline. We had no juice, no energy, no passion, no fight, no urgency, no grit, whatever adjective you want to use, we did not have it.
"And you can't use, 'Hey, we're going home for Game 3,' as something you can rely upon. We have a great crowd, but if we play like this, they're going to boo us off the court, and rightfully so."